Why are Changes Needed?
At the federal level, Public Law 108-199, Section 629 states: "Notwithstanding any other provision of law, a woman may breastfeed her child at any location in a Federal building or on Federal property, if the woman and her child are otherwise authorized to be present at the location." In addition, all 50 states (as of 2018) have laws that specifically permit breastfeeding in any public or private location. However, legal protection does not always translate to access and accommodations free from scrutiny and criticism. As research indicates, a large percentage of women do not initiate breastfeeding based on public attitudes toward breastfeeding, including fear and embarrassment of breastfeeding in public. The anxiety surrounding breastfeeding in public highlights the need for continued societal support amidst ongoing normalization efforts.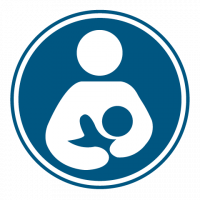 Policy Positions
MIBFN Anytime, Anywhere Policy Positions
Normalization campaigns should center on messages of Breastfeed: Anytime, Anywhere to advance feeding on cue, and reduce concerns about location-specific rights to breastfeed.
Future legislation should include language that also protects public milk expression.
Breastfeeding and milk expression areas should be visible and available everywhere, but marked as clearly optional spaces.
To view the full policy position, download the position paper here.
Tools
Effective May 7, 2019 we are no longer providing free printing and shipping on campaign-related tools. Please click below to continue downloading and sharing with your networks and families! 
MIBFN tips:
1. All of these files can be downloaded and printed using a professional printing service like www.vistaprint.com or www.custommagnetsdirect.com

2. If you'd like to add your organization's logo, contact info@mibreastfeeding.org for support
Story Sharing
Do you have a breastfeeding in public experience or story that you would like to share? Click here to share your story.