Why are Changes Needed?
Women are a huge part of today's workforce and working is an economic necessity for most mothers. There are benefits to employers for investing in women workers but current federal accommodations under the 2010 Federal Break Time for Nursing Mothers legislation does not provide comprehensive workplace breastfeeding policies. When companies support breastfeeding, businesses gain a three-to-one return on investment in addition to greater employee retention, lower absenteeism, and a more creative and productive work environment.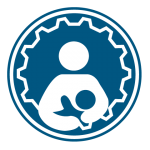 Policy Positions
MIBFN Workplace Policy Positions
Employers should provide comprehensive workplace breastfeeding protection for all employees regardless of legal status and employment classification.
Employers should provide flexible, comprehensive time solutions for all employees regardless of legal status and employment classification.
Regardless of work environment, space solutions should be provided for all employees.
Whenever feasible, access to baby for direct breastfeeding in the workplace should be the standard for employees.
Comprehensive paid family leave legislation should be adopted at the national level.
To view the full policy position, download the position paper here.
Tools
Effective May 7, 2019 we are no longer providing free printing and shipping on campaign-related tools. Please click below to continue downloading and sharing with your networks and families!
MIBFN tips:
1. All of these files can be downloaded and printed using a professional printing service like www.vistaprint.com or www.custommagnetsdirect.com
2. If you'd like to add your organization's logo, contact hello@mibreastfeeding.org for support
Workplace Awards
Does your employer provide time and space for breastfeeding employees in compliance with the Break Time for Nursing Mothers law?
MIBFN aims to increase the visibility of policy makers who adopt breastfeeding-supportive policies.
There are three award levels (Bronze: 1-5 points, Silver: 6-10 points, Gold 11+ points and complete the DHEW)
Applications are accepted on a rolling basis
Awards are good for 1 calendar year
Learn more about Workplace and Workplace Awards by watching this video
Nominate your employer for a Workplace Award with our online application or print and fill out our paper application! 
For returning applicants, please note effective January 1, 2020, Workplace Award recipients will receive a modified packet of tools different than previous years to recognize their efforts to support breastfeeding in the workplace. For questions, please email hello@mibreastfeeding.org.
View and congratulate Workplace Award recipients!