Overview
With support from the Michigan WIC Division, MIBFN began hosting QNMs in March 2016. QNMs are intended to create a platform to learn, share, and connect among local and regional breastfeeding supporters and are designed through the lens of MIBFN's mission, priorities, and goals.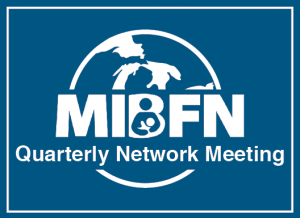 Objectives
Learn local and statewide approaches to breastfeeding systems-change
Share with each other about community-level efforts to improve breastfeeding outcomes
Connect with MIBFN local breastfeeding supporters to form ongoing linkages to continued collaboration
Participants
QNMs have ranged between 35 and 120 participants. Participants are breastfeeding supporters and advocates who want to bring about actionable, system-level changes that are centered on the diverse experiences of Michigan families with young children. We welcome everyone – including families, lactation support staff, health care providers, and community leaders.
Collaborators
Each community is different and MIBFN always intends to honor local linkages among breastfeeding supporters and organizations by flexibly engaging with several entities in each community. Once a geographic area to hold the QNM is identified, MIBFN works with local breastfeeding organizations to secure a location to meet, identify topics of local relevance, bring in nourishing meals and snacks throughout the day, and identify local breastfeeding champions to present and engage local breastfeeding supporters to participate in the meeting. Collaborators on previous QNMs have included local breastfeeding coalitions, support groups, and grassroots organizations. 
If you are interested in influencing this work and collaborating with us, please email info@mibreastfeeding.org.
Presenters, Panelists, and Facilitators
QNM presenters, panelists, and facilitators are recommended by their community because of their leadership and trust in their community, and because their efforts have already demonstrated alignment with MIBFN's mission, vision, values, and goals.
Their role at the QNM is to learn, share, and connect with participants and other collaborators in ways that support our efforts to center diversity, equity, and inclusion in all of our work. We work better when we work together, and believe that a focus on local, community-based solutions is the way to realize our vision of a breastfeeding-supportive Michigan.
If you are interested in being a presenter, panelist, or facilitator at a future QNM, please email info@mibreastfeeding.org. 
If you have already confirmed as a presenter, panelist, or facilitator for a future QNM, we will be in touch via email with more information and next steps.
Upcoming QNMs
The previously scheduled December QNM in Flint is canceled. As planning continues for 2020 Network Meeting and Community Conversation, we are tentatively planning for an April 2020 meeting in Flint. As planning continues, please stay tuned to www.mibreastfeeding.org and our social media platforms for updates.
Past QNMs
September 19, 2019
Kalamazoo (Ascension Borgess Hospital, Kalamazoo)
June 7, 2019
Chippewa (Immanuel Lutheran Church, Sault Ste. Marie)
March 26, 2019
Ingham (East Lansing Hannah Community Center, East Lansing)
December 18, 2018
Macomb, Oakland, and Wayne (Wayne State University, Detroit)
September 21, 2018
Bay (McLaren Bay City, Bay City)
June 15, 2018
Marquette (UP Health, Marquette)
March 16, 2018
Kent (Kent County Health Department, Grand Rapids)
December 15, 2017
Washtenaw (St. Joseph Mercy, Ypsilanti)
September 12, 2017
Calhoun (Grace Health, Battle Creek)
June 5, 2017
Alpena (UP Health, Alpena)
March 23, 2017
St. Clair (St. John Providence Hospital, East China)
December 7, 2016
Kalamazoo (Bronson Methodist Hospital, Kalamazoo)
September 30, 2016
Emmet (McLaren Northern Michigan, Petoskey)
June 22, 2016
Oakland (Crittenten Hospital, Rochester)
March 22, 2016
Ingham (Sparrow Hospital, Lansing)