Why are Changes Needed?
The overwhelming majority of mothers want to breastfeed. However, breastfeeding outcomes are undermined by structural barriers. Interactions with mothers during the prenatal, birthing, and postpartum period, both within the medical system and community, should be designed to ensure mothers are able to breastfeed in the ways they desire.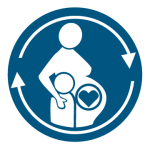 Policy Positions
MIBFN Maternity Care Policy Positions
All medical providers should receive and provide evidence-based breastfeeding education.
WIC referrals should be universal.
All birthing hospitals in Michigan should implement the evidence based practices that are outlined in mPINC and central to Baby-Friendly designation.
Organizations should train, recruit, and hire diverse, multidisciplinary care teams that reflect the populations they serve.
To view the full policy position, download the position paper here.
Tools
Effective May 7, 2019 we are no longer providing free printing and shipping on campaign-related tools. Please click below to continue downloading and sharing with your networks and families!
MIBFN tips:
1. All of these files can be downloaded and printed using a professional printing service like www.vistaprint.com or www.custommagnetsdirect.com
2. If you'd like to add your organization's logo, contact hello@mibreastfeeding.org for support
Michigan Baby-Friendly Hospitals
Here is a list of the current Baby-Friendly Facilities in Michigan. Learn more about Baby-Friendly USA here. 
Ascension Macomb-Oakland Hospital (11800 E. 12 Mile Road, Warren, MI 48093), (05/15)
Ascension Providence Hospital, Novi Campus (47601 Grand River Avenue, Novi, MI 48374), (12/15)
Ascension Providence Hospital, Southfield Campus (16001 W. Nine Mile Road, Southfield, MI 48075), (12/15)
Ascension St. John Hospital (22101 Moross Road, Detroit, MI 48236), (07/14) Re-Designated 2019-2024
Beaumont Hospital, Grosse Pointe (468 Cadieux Road, Grosse Pointe, MI 48230), (03/12) Re-Designated 2017-2022
Henry Ford Allegiance Health (205 N. East Avenue, Jackson, MI 49201), (07/15) Re-Designated 2020-2025
Henry Ford Hospital (2799 W Grand Blvd., Detroit, MI 48202), (03/18)
Henry Ford West Bloomfield Hospital (6777 West Maple Road, West Bloomfield, MI 48322), (12/14) Re-Designated 2019-2024
Mercy Health Saint Mary's Hospital (200 Jefferson Avenue SE, Grand Rapids, MI 49503), (04/18)
Sparrow Hospital (1215 E. Michigan Avenue, Lansing, MI 48909), (03/15)
Spectrum Health Butterworth Hospital (100 NE Michigan Street, Grand Rapids, MI 49503), (10/14) Re-Designated 2019-2024
Spectrum Health United Hospital (615 South Bower Street, Greenville, MI 48838), (07/14) Re-Designated 2019-2024
Spectrum Health Zeeland Community Hospital (8333 Felch Street, Zeeland, MI 49464), (11/18)
St. Joseph Mercy Hospital (5301 East Huron River Drive, Ann Arbor, MI 48106), (11/18)
St. Joseph Mercy Oakland (44405 Woodward Ave, Pontiac, MI 48341), (03/15)
Outpatient Awards