Why are Changes Needed?
In Michigan, lactating individuals have the option under law to claim exemption from jury service due to breastfeeding. However, this excludes valuable members of society from performing their civic duty and does not create fair representation within the jury box. Courthouse accommodations are clearly lacking. Currently, it is unfeasible for a lactating individual to serve on a jury due to lack of time, space, and accommodations for breastfeeding and/or expressing milk. Courts need to be more accessible for breastfeeding individuals and provide accommodations for those who seek to fulfill their civic duty through the juror process.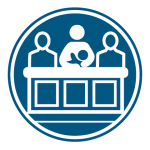 Policy Positions
MIBFN Jury Duty Policy Positions
Jury duty summons should include specific information for breastfeeding jurors: the availability of milk expression time and location that does not include a bathroom; access to baby or child for breastfeeding during the trial; whether the court provides assistance in finding child care; and other logistical support for breastfeeding accommodations.
Exemptions for breastfeeding mothers who are unable to serve should be upheld.
All court employees from clerks to judges should receive mandatory breastfeeding accommodation education.
District, circuit, and federal courts should adopt official policies providing accommodations for breastfeeding and milk expression during jury duty for breastfeeding mothers.
To view the full policy position, download the position paper here.
Tools
Effective May 7, 2019 we are no longer providing free printing and shipping on campaign-related tools. Please click below to continue downloading and sharing with your networks and families! 
Jury Duty Exemption Letter CUSTOMIZABLE Template (must be signed by a healthcare provider)
MIBFN tips:
1. All of these files can be downloaded and printed using a professional printing service like
www.vistaprint.com
or
www.custommagnetsdirect.com
2. If you'd like to add your organization's logo, contact
info@mibreastfeeding.org
 for support
Story Sharing
Do you have a jury duty selection or exemption experience you would like to share? 
Click
here
to share your story.