Overview
In partnership project with the Genesee County Breastfeeding Coalition (GCBFC), MIBFN 310 Connect Flint has been active since late 2016. This project was borne of the Flint water crisis and aims to improve the maternity care system, with specific emphasis on training and building the community breastfeeding support infrastructure in Flint. Together with the GCBFC, MIBFN is working to increase the quantity and impact of diverse, multidisciplinary lactation supporters through the hospitals, outpatient clinics, local public health agencies, and grassroots support organizations.
This project is made possible through the generous support of The Community Foundation of Greater Flint, Flint Kids Fund. View all of our 310 Connect Flint partners here.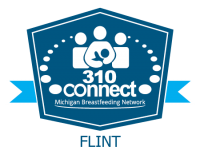 Get to know how MIBFN is taking a 360-degree approach in Flint by clicking the links below and view our infographic here.
Maternity Care
QI JumpStart to Baby Friendly Hospital Collaborative: Provide Hurley Medical Center and Ascension Genesys Hospital the opportunity to participate in QI JumpStart to Baby Friendly Hospital Collaborative, free of charge to their organizations
Custom Maternity Care Training & Tools: Leverage partnerships to incorporate consistency in Maternity Care Campaign messaging, saturating partner organizations with Coffective Training & Tools
Outpatient Medical Provider Engagement & Tools: Engage Outpatient Medical Providers in coordinated Maternity Care Campaign, using Coffective Training & Tools and Michigan Breastfeeding Friendly Medical Provider Awards as an effective solution to engage and create buy-in, while empowering and providing strategic guidance, education and support
Learn more about MIBFN's Maternity Care campaign here.
Coalition Building
Coalition infrastructure establishment with use of sustainability templates: Leverage lessons learned from other coalitions around the state and implement the use of a variety of tools in collaboration with the Genesee County Breastfeeding Coalition to help simplify and catalyze change in the community
Meetings, celebrations and networking events: Align the community by hosting meetings and events that collectively bring hospital staff, leadership and systems-level partners together for an experience of networking, sharing and collaboration
Community Engagement dashboard: Leverage use of the community engagement dashboard to identify and engage community stakeholders, expanding reach, increasing valuable consistency in messaging and identifying engagement, interest and completion within the Genesee County Breastfeeding Coalition
Learn more about MIBFN's mission-drive Coalition Building here.
Education
Sustainability of Community-based Champions: Engaging the expertise of established community leaders in building a sustainable infrastructure of mothers, families and dads as part of YOLO's Community-Based Breastfeeding Support Group, Baby Café of Genesee County and InvolvedDad's fatherhood engagement groups, mobilizing a system of at-home champions all of whom are trusted by the community, from the community and well equip to support breastfeeding success
Certified Lactation Counselor Training: CLC community training will ensure that lactation support is available within Flint to the families that need it the most. Trained Lactation Counselors will be specifically recruited for participation in other programs, including; Baby Café and the Genesee Breastfeeding Coalition
Participation in Webinar Series: Expand access to evidenced-based, equity-focused, and timely breastfeeding education the Great Lakes Breastfeeding Webinars are FREE and provided monthly webinar offering a CERP, social work contact hour, nurses' contact hour, and a certificate of attendance to attendees who can watch live and complete the post-webinar evaluation
Quarterly Networking Meetings: Expand and engage breastfeeding stakeholder networks by cultivating relationships among local leaders, sharing best practices, and providing technical assistance. The aim of the Quarterly Network Meetings is to bring breastfeeding stakeholders together, in person, four times per year in various regions of the state to create opportunities to learn, share, and connect with one another
Learn more about MIBFN's Great Lakes Breastfeeding Webinars here and Quarterly Network Meetings here.