In partnership with the Breastfeeding Coalition of Calhoun County (BFCCC), MIBFN 310 Connect Calhoun County has been active since early 2017. This project aims to improve several key systems that impact breastfeeding success, including maternity care, workplace and childcare, and community normalization. The Regional Health Alliance serves as a key local implementation partner. Together with the BFCCC, MIBFN is working to increase breastfeeding initiation, exclusivity, and duration rates as well as changes in related health outcomes such as infant mortality and SIDS rates.
This project is made possible through the generous support of The WK Kellogg Foundation; the United Way of Battle Creek and Kalamazoo Region supported previous components. View all of our 310 Connect Calhoun County partners here.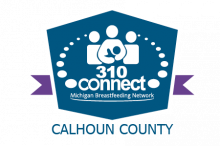 Get to know how MIBFN is taking a 360-degree approach in Calhoun County by clicking the links below and view our infographic here.
Maternity Care
Hospital Grand Rounds: Coordinate Grand Rounds at Oaklawn as an opportunity to provide administrative support and technical assistance by local Medical Director of Breastfeeding Support Services at Ascension St. John Dr. Paula Schreck, whom has guided several systems through the Baby-Friendly designation process
QI JumpStart to Baby Friendly Collaborative: Provide Oaklawn Hospital and Bronson Battle Creek Hospital the opportunity to participate in QI JumpStart to Baby Friendly Hospital Collaborative, free of charge to their organizations
Custom Maternity Care Training & Tools: Leverage partnerships to incorporate consistency in Maternity Care Campaign messaging, saturating partner organizations with Coffective Training & Tools
Outpatient Medical Provider Engagement & Tools: Engage Outpatient Medical Providers in coordinated Maternity Care Campaign, using Coffective Training & Tools and Michigan Breastfeeding Friendly Medical Provider Awards as an effective solution to engage and create buy-in, while empowering and providing strategic guidance, education and support
Learn more about MIBFN's Maternity Care campaign here.
Workplace
Anytime, Anywhere
Child Care